Rights 4 Her Uganda (R4HUganda) is an Eco-feminist Women-Led organization, that works to promote the Conservation,  Preservation and Restoration of the Planet Earth and the rights of marginalized communities in Uganda.
She was founded in 2017.
R4HUganda intends to fulfil her mission through quality Holistic Care and providing safe healing spaces to Ecofeminists and Women Human Rights Defenders and survivors of Sexual/Gender Based Violence, advocate for an enabling environment for safe green and free spaces to all inhabitants, evidence based research and documentation on ecology and Sexual/Gender Based Violations, socio-economic empowerment through sustainable livelihood programs and organisational strengthening in order to deliver on her mandate.  
From Chapter 4, Article 20 that call for fundamental rights and freedoms of all individuals being "inherited and not granted by the state" to Article 21 that caters for Equality and Freedom from Discrimination, one would expect these protections to apply to lives of LBQT women and girls as well. Unfortunately, the above provisions have not been extended to us. Instead, the government has continuously violated these provisions unashamedly.
Gender-based violence continues to be fueled by the patriarchy that underlies our cultural, societal and religious constructs. These constructs define our gender depending on that assigned to us at birth, put women at the submissive angle in life, acknowledges and approves sex acts only between male and female binary leading to misinformation about gender diversity.
Many LBQT women are forced into marriages, raped by family partners or gang-raped claiming to rectify their sexuality. Many are denied the right to life through mob justice, denied the right to education, terminated from workplaces, unfairly treated and many different times excluded from participation in the development of their communities. 
In June 2019, Freedom and Roam (FARUG), an LBQ organization in Uganda launched a publication on the Lived Realities of Lesbians, Bisexual and Queer women in Uganda, which highlights the different social, political, economic and health experiences.
Spiritually, there has not been any favours for us because places of worship are leading in the spread of hate and discrimination. The holy books are used in favor of the perpetrators. Due to the high level of discrimination and stigma in our societies, many LBQT women have lost their lives through psychological or physical abuses.
For years, LBQT women have been economically violated through unequal opportunity, denied opportunities to work, less or no payment attached to our work. This has and still keeps many in the vicious cycle of poverty. When global development goals are set, they do not fully capture their experiences of discrimination and exclusion when it comes to unequal distribution of resources. We cannot attain the good health and wellbeing goal if all available alternatives are set in line with heteronormative solutions.
Education is vital if we are to eradicate poverty, better our lives and have a knowledgeable society. We must have a society which promotes gender equality with a fair representation of all persons, equal opportunity and distributions of roles, one which is free from any form of discrimination. Our cities and community can only be sustainable if they are safe for everyone and inclusive.
The Team Driving Our Activities
Because R4HUganda believes in inclusion and Diversity.
Winfred Mugambwa
Executive Director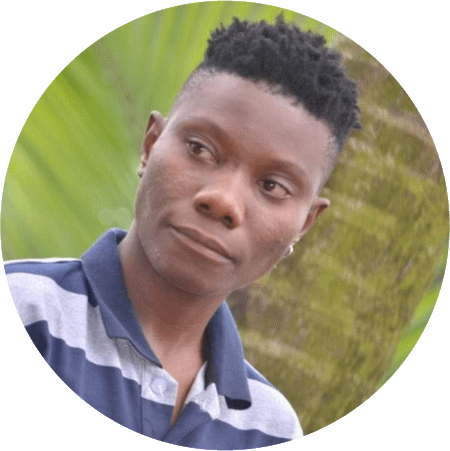 Jero K
Administration & Wellness Associate
Mac Illakut
Research Associate
Core Values Because we "CARE"
To strengthen visibility, and inclusion of structurally silenced women in planning and programing in Uganda.
To influence policy, systems and practices that affect the realization of the wellness of the Planet Earth and structurally silenced women by effectively engaging the government, Structurally Silenced Women and other stakeholders
Research, Monitoring and Documenting lived realities structurally silenced women in Uganda.
To create safe and healing space for structurally silenced Women Human Rights Defenders and Survivors  of Sexual/Gender Based Violence in Uganda.
To promote  sustainable solutions for the livelihood of structurally silenced women in Uganda.
To promote institutional Growth in Uganda.
Structurally Silenced Women